Our house was built ad opened in 2001. The very firstsummer was already favourable. The house is situated 800m from lake Balaton, witch means a pleasant 10 minutes'walk to the shore. Restaurants can be found 100 m away. The apartements are 60 m2 large each, withseparate entrance, they are next to one another.
In each you can find 1 room, with two separate beds and one room with a double bed.
The kitchen and the living-room are in one airspace, the toilet is in the bathroom.
The kitchen is well.equipped - a refrigiator, a microwave- oven, a coffe-maker and a gas cooker are at your dispostal.
There is a satelit television with a remote control.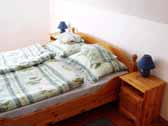 All the windows are with fly-screens and shutters against the hot summer days. On teh terace you can find garden furniture, barbecueis also aviable. You can keep your card in a closed place. The apartements are for 4-5 person. We can provide discount charges for children. Children aged 1-3 get accomodation free. Children under 14 get 30% discount. Our prices include the tourist tax. As we can offer our guests the most favourable prices in the area, and at the same time our services are of high quality, we have many regular guests, who come back year by year.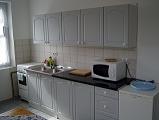 We cannot accept holiday can mark the food and the time so that we could serve your breakfast hot. Let me know if you require breakfast when you book your room. Bus and train service are within 200mrs.
I hope I managed to arouse your attention. Our house meets all the requirements and offers all comforts.
As we offer high quality service for very favourable prices, you are asked to inform us about your intention to book accomodation in time.
Mayer family