Lake Balaton and surroundings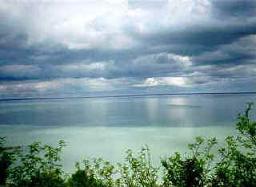 lake balaton
Lake Balaton and surroundings comprise some of he most beautiful landscapes in this country. There is an abundance of naturan features, historical treasures and folk traditions, justifying the popularity of this holiday region both at home and abroad.
The lake is the largest body of water in Central in Central Europe, with an area of 590 km2, a leight of 77 km, width of 8-14 km and an average depth of only 3-4 m. The narrowest point of lake balaton is beetwen the Tihany peninsula and Szántód, a mere 1,5 km, but it is also the deepest here by the Tihany well, at 12.4 m.
The color of the lake constantly varies, depending on the time of day, the cloud cover and the wind, from an angry green, through greenish blue and blue , to lead grey. The opalescent shades can be attributed to the mass of plankton and the granis of sand suspended in the water.
Lake Balaton has the ideal features for a holiday spot. The silky, soft water soon warms up the temperature even reaching 27 celsius on summer days. The bed of the lake sinks more rapidly on the north shore than on the south, so it is exelent for swimming and water sports. The south shore is several hundred meters wide, so even families with small children can bath safely on this shallow strip. Lake Balaton is also a favourite spot for yachting, windsurfing and rowing. On the north shore of the lake pleasant beaches and finally situated holiday resorts offering a variety of services are to be found. There are enticing excursions into the pictureesque hill country along the shore with romantic valleys, evocative villages, and crags crowned with ruines castles. Other goals for trips are Veszprém, Nagyvázsony and Keszthely, with abundant historic monuments, Tapolca, famous for it's lake cave, the Tapolca basin, renowned for it's unusually formed basalt hills and outstanding wines, Sümeg known for it's castle , and Europe's largest warm-water spa lake in Hévíz.
On the south shore, there is a sries of large holiday resorts stretching from Siófok to Fonyód, visited by crowds of turists in the summer, so those looking for bathing, bastling society life and entertainment prefer this section of the shore. After Fonyód resorts with more of a family atmosphere and to be found. In the territory behind a south shore, in the inner and Outer Somogy landscapes of the Balaton region, historic monuments and memorials, lookout towers, mediaeval church and castle ruins folk art remains, and fine natural features can be seen. Specially worth seeing are the buffalo reserve at Kápolnapuszta, the dressable statues of the Virgin Mary in Andocs and Buzsák, and Krishna Walley, the Hindu religious centre in Somogyváros. In the LIttle Balaton region, the undisturbed natural beauty and the unique bird life are fascinating to experience.
GYENESDIÁS
Favourite holiday spot with a rich past, adjacent to Keszthely. Main attraction: first-rate beach with excellent services (beach walleyball, giant slide, water football pitch, high standard service units, free car park);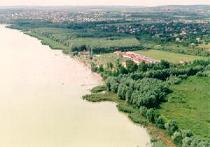 view of gyenesdiás
St John spring (beginning of Kossuth Str.) alongside, statue of St John of Nepomuk (1828, Neoclassical); Havas Boldogaszzony church (Darnay u.; 1893; Italian Neo-renaissance altar), in front, Holy Trinity statue (1902); Danay type thatched harrow cellar (Nr. 10; 1644; folk monument); Shepherd's house (Nr. 97; 19. c.; local history collection); St. Ilona chapel (Hunyadi J. str. ; 1826, Neo-classical);
Great meadow (Faludy str.-Lötéri str.; Excursion spot, woodland gymnastics area) above. Festetics lookout tower (Varsás hill, following yellow+signs)
Excursion: Great meadow (woodland gymnastics area); Vadlány-lik cave; Festetics lookout tower; Berzsenyi lookout tower; Büdöskút-puszta (following yellow signs).
vents: Spring Festival: end of Apr., season opener: Whitsun; Wine days: 8-11 Jul.; Folklore Festival begining of Aug.; St. Ilona's day pilgrimade and celebration of St stephen day: 20-22 Aug.; classical music concerts:every fortnightin hogh season; Vintage merrymaking: first half of Sept,; bicycle tours.
HÉVÍZ
World famous spa; Bathing lake (lrgest thermal lake in Europe: 11 ac.; spring at depth of 43 m; radi-active therapeutic waters; therapeutic mud several m deep; bath-houses on stilts; unusual plants: water lilies on the lake, bald cypress on the on the shore, the lake and surroundings NR); recreation park; Holy pirit church with seven towers (1996-1999: János Bocskai); Hévíz Pantheon on the wall of the winter baths; Jupiter altar stone in the entrance hall; statue park (Dr. Moll tér.); Egregy R. C. church (in the cemetery, access: across Zrinyi u.; 13. c., Rom.; traces of mediaeval frescoes in the sanctuary), on the way: late Roman brick tomb.
Events: Maytime: beginning of May; Beer Festival: Whitsun; Water Lily Festival: Jul.; Alpine-Adiatic international Folklordance Gala begining of Aug.; Hévíz Wine Festival: end of Aug.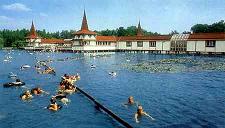 the bathing lake
KESZTHELY
Largest settlement on the northern shore of Lake Balaton, aged centre for holiday, foreign tourism, culture, and education. The territory has been inhabited for 7000 years.The most outstanding sight is te Festetics Mansion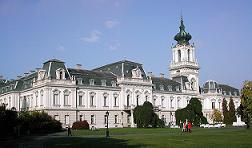 festetics mansion
(Kastély u; 1754, Baroque; concerts in the mirror hal and the protected park; Helikon Mansion Museum; Helikon Library: 80000 volumes, the largest surviving aristocratic library); 18. c. Baroquebuildings stand in Kastély str. Georgikon Farm Museum (Bercsényi str. 67; onetime grain store: 1825). Kossuth str. is the city pedestrian precinct. Doll museum (Bakacs str.; 500 porcelain dolls in the folk costumets of Hungary), waxworks (ibid.). snail parliament (ibid); Pethő- or Goldmark House (Kossuth str. 20 , 18. c.); birth house of composer Károly Goldmark; synagogue (19. c)
Fő tér: R. C. parish church (1386, Gothic; inside: the largest Gothik frescoes in the country: 15. c.; grevestone slab of the founder, platine Laczkffy: 1397; Kristóf Festetics's Rococo tomb: 1765); in front of the church, Neo-gothic tower (1878); Holy Triniti statue (Boroque); Town Hall (ibid., 1769, Late Baroque); garden of ruins on the S side of the church (circular Árpád period church and foundation walls of Turkish period fortification).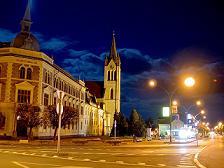 main squere
Balaton Museum (Kossuth u.; Neo-baroque palace : 1928, Györgyi Dénes); Helikon park , inside Helikon memorial; St Nicholas cemetery Festetics György str. ; Festetics mausoleum, Neo-classical , 1924); Júlia Szendrey' birth house (Szendrey settlement, to the south of the cemetery).
TAPOLCA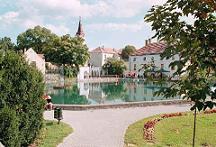 mill lake
Lake Cave (Kisfaludy u. 3; a natural formation unique in Central Europe, 4 km long, protected; boating opportunities); St Borála's statue opposite the entrance (2000:László Márton); R. C. parish church (Church Hill; 13.-15. c., Romanesque-Gothic; reconstuction: 1756, Baroque); alongside, garden of ruins (foundations of roman and Árpád period buildings); Town Museum (onetime choirmaster's house, 8 Church hill; ethnography, local history and school history collection); opposite, parsonage (Baroque); in front, statue of St John of Nepomuk; Tapolca pantheon (by the smaller lake); opposite, Holy Weeel spring house (Baroque: Inside, Erzsébet Udvardy's Madonna); bust of Gabriella Baumberg (1966: András Kocsis): Malom-tó: by the shore, ancient colorful houses and a onetime water mill (18th c.; now a hotel), next to the walkway, statue of Janos Batsányi (1954, György Segesdy); permanent exhibitition of sculptor László Márton (Batsányi tér 1.) St Antal Wine Museum (Arany J. str. 1); Holy Trinity column (Fő tér; 1757); Old cemetery (grave of poet Janos Batsányi and his wife Gabriella Baumberg).
Events: Tapolca Summer: Jul.-Aug.; Tapolca Festive Days: middle of Aud.; Tapolca Evenings: once a month Sept.-May.

SZIGLIGET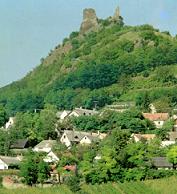 view of szigetvár
Old village: around a church, in picturesque zigzag streets; around 120 protected buildings, 18th c.; R. C. church (of 18th c. origin; present form: 1721);
castle ruins on the top Castle hill (13th-16th c.; finely restored walls, towers, beautiful wiev); Esterhazy Cellar and Wine Museum (Kossuth str. 3.); former Esterhazy Mansion (Nr. 17; 18th c. origin; present form; early 19th c.; now: Writers' Creative House); park is NR; Lengyel Manor (1982, Baroque; now a restaurant); István Farkas Memorial House (Kamonkő u. .; watercolors by the artist); Avas church ruin (Réhelyi u.; 13th c. ); craftmen's house; exhibition hall (Kisfaludy u.); ruins of Óvár (on the Királyné Szoknyája hill).
Events: military games, concerts: in high seasons, at weekends; Szigliget summer Days: beginning of Aug.; vintage procession and ball: end of Sept.
SÜMEG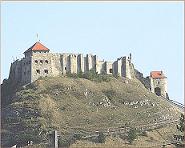 view of sumeg's castle
Evocative, historic little town and place of pilgrimage, rich in monuments. Sümeg castle, which crowns the castle hill, provides a picturesque sight. A pleasant footpath leads up to the largest ruined castle in Transdanubia. (Olsd tower: 13. c., other sections 15. -17. c.; Castle museum); Castle stables (Vároldal str. 5. ; around 1750, Baroque; the Radetzky hussar association is now stationed here; exhibitition; Gyöző Somogyi's graphics on the histories of hussars, horse brasses); Carriage museum (next to the castle inn; collection of carriages, cannon and sabres). Parrish church of our Lord's ascension (Bíró M. u. 3.; 1756-1759, Baroque; marvellous frescoes by F. A. Maulbertsch on the walls and celling); Baroque and electric town houses (Kossuth str. 18.-19. c.) Kisfaludy Museum (Nr. 3; 18th c. ; the poet was born here); in front sümeg pantheon (memorial plaques to the famous sons of the town); Baroque country houses (Szent István tér, Udvarbíró tér); Bishop's place (ibid.; 1745-1753, Baroque; chapel decorated with stucco); Fransiscan church (ibid.; 1652-1657, early Baroque; Extended: 1724-1733; valuable altars, statues, frescoes; miracle-working shrine statue of the Virgin Mary; pilgrimage church); alongside, Franciscan monastery (1652, reconstructed: 1949); town cemetery (here lie the poet Sándor Kisfaludy and his wife Róza Szegedy)
Excursion: Prehistoric flint mine of mogyorós hill (geology exhibition; approach: József Attila. str. and a short section of route 84)
Events: Castle games (tilting, jousting): all year; Radetzky Day: May; Great pligrimage of the Heart of Jesus: Jun.-Aug.; Border Castle Days: Aug.; Chief pilgrimage of the Virgin Mary: Aug,; Hussar-hunter riding to close season: Nov.
| | |
| --- | --- |
| | |